Club Welfare Officer
In providing hockey coaching for children and young people under 18 years of age, Yeovil and Sherborne Hockey Club (YSHC) recognises its responsibility to have a nominated Club Welfare Officer.
Claire McSevney as mandated by the England Hockey Board is responsible for safeguarding children and young people whilst assisting YSHC to implement its child welfare implementation plan.
Claire is the first point of contact for staff, volunteers, parents and children/young people where concerns about children's welfare, poor practice or child abuse are identified. Claire can be contacted at:
Tel: 07718 992227
Juniors in Sport
Dear Parent / Guardian,
At Yeovil & Sherborne Hockey Club we are proud of our achievements with the junior section both on and off the field of play. We have children ranging in age from 6 to 18 years who are either setting out on the `hockey adventure` or are achieving at either club, County or National Level. Along with the efforts of coaches and volunteers we are keen to ensure that parents and guardians play a continued and pivotal role in that success through positive encouragement on and off the pitch. Sometimes we lose sight of just how much we expect of our children in this modern age where the pressures of life are so much different from when we were young. There are so many more visible opportunities and whilst we are keen to assist them along the pathway to success we should on occasions reflect on exactly how we encourage, support and influence them to `be the best they can be`. As a parent and coach myself I know how sometimes I get carried away and occasionally need a reminder of how my actions and reactions can be interpreted by a younger person and as such I would be grateful if you could take a few minutes to view the below link and subsequent video and ask yourself `how am I doing?`
https://thecpsu.org.uk/resource-library/2013/my-magic-sports-kit
Many thanks for your continued support.
Regards,
Keith
Keith Walters
Director of Hockey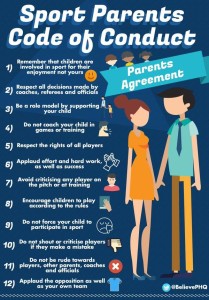 E Safety Guidance for Club Committee Members, Volunteers and Senior Members
Many members use sites such as Facebook and Twitter and as a Club it is essential that we promote safety for senior and junior members online. It is a responsibility that all adults connected to the Club play a key role in actively promoting this.
As a Club that uses Facebook for events and discussions it is important that senior members keep a professional distance from junior members online just as you would in the "offline" world. It is essential to remember that all conversations can be read by others and can be misinterpreted. As an England Hockey Accredited Club it is our duty to protect all our members especially the junior ones. Once something is posted on Facebook or a similar social network platform it is effectively in the public domain and can be accessed by others.
Below are a few guidance points:
Remember you are in a position of trust as a committee member/volunteer/senior member.
Remember that some sites have an age restriction (Facebook has a minimum age of 13 years).
As an adult it is advisable not to communicate with a junior member from your personal social networking account but to use the Club's one.
Conduct yourself in a way as you would face to face.
Do not engage in a one-to-one conversation with junior members via chat facilities, this is effectively the same as going into a private room and closing the door.
Do not publicise or provide personal details such as e-mail address, school names etc, for young people on the Club's website or social networking platforms.
Before publishing any photos of junior members please make sure they are registered and that their parents/guardians are happy for these to be published. This can be checked with the Club Secretary.
Do not publish junior members full names on websites, social networking platforms or media just their first name and if needed, the first letter only, of their surname.
If you are sending out e-mails ensure you have members e-mail address in the BCC option to avoid sharing addresses.
All information put on the Club's social networking platforms site should be monitored by the administrators and any inappropriate comments should be deleted.
E Safety Guidance for Young People
As the use of internet and mobile phones are the preferred method of talking and communicating with friends due to cost and speed, Yeovil and Sherborne Hockey Club have prepared some guidelines and useful contacts to help keep their junior members safe:
Make sure your social networking profile is set to private or for friends only.
Do not communicate with people on social networking sites if you do not know them.
Do not give out your personal details such as your address, mobile number or location on any website or on the phone.
Do not arrange to meet up with anyone who you have only met and spoken to online/on the phone.
When uploading photos of yourself and friends make sure your friends are happy and give permission for you to do so.
Never upload photos or send comments that maybe hurtful to others.
Be aware that any photos, video clips and comments uploaded to the internet may be there forever even if you think you have deleted them. They may also be viewed by people that you think cannot see them.
Ensure you know how to block people on a social networking site, and if necessary report them.
If you are ever worried and need help tell your parents/carers or a responsible adult such as your school teacher.
In general messages from the Club will be via e-mail from the admin address or from the Club Secretary and text messages concerning games etc will come via your coaches/captains.
Useful Links
Code of Ethics & Behaviour
If you have any queries regarding welfare, child protection please click on the link below.
England Hockey Equity, Ethics & Behaviour Policies
SafeD – Safeguarding the Hockey Community
Useful Contact Details for Junior Members for Help, Support and Advice
Please see the document below or contact The Club Welfare Officer.